How to Choose Your Own Lace
About the lace material:
Lace materials are classified into French lace and Swiss lace. The advantages of French lace are more durable and can be long lasting. But on the other hand, it doesn't look as natural as the Swiss lace, because the material is thicker and hard wearing. So this's why most people wouldn't choose  it but Swiss lace.
For Swiss lace, it's thinner material that would look more invisible, also it's stretchable and easy to blend better with the skin tone. That's why most lace products are made of swiss lace.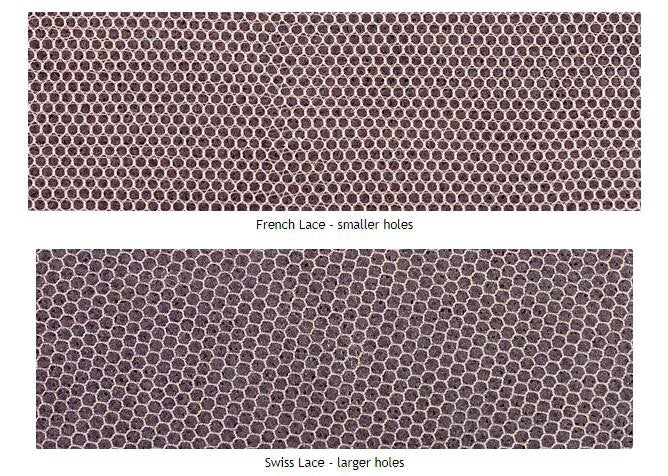 3 types of lace are mainly used in the hair market: Regular Swiss Lace, Transparent Lace and HD lace.
Regular Swiss Lace: 
There are plenty of lace colors but only 3 types are mostly used: light, medium and dark brown. Almost all the lace products are made of regular Swiss lace in the past few years before transparent and HD lace come out to the market. It's a little thick but more durable and not easy to rip off. Many people will prefer to choose the lace color according to their skin tone. The price is much lower HD lace as well.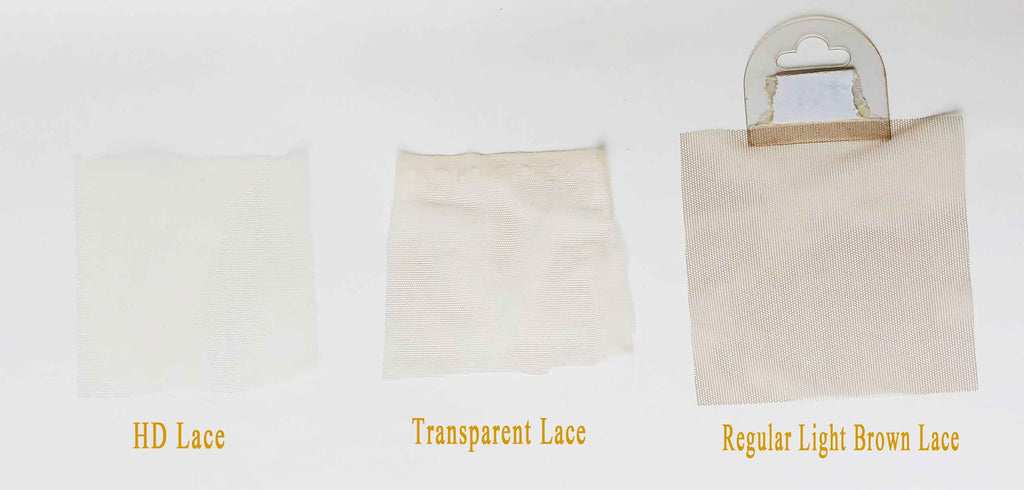 Transparent Lace: 
It's regular lace in transparent color, but thin and more stretchable. We often recommend the transparent lace to women with light skin tones. And most vendor will use this lace color on #613 lace wig. But the transparent color lace is easy to rip off can melt into any skin tone after bleached the hair knots and glue down the hairline. Though the price is almost the same with regular Swiss lace.
HD Lace: 
HD stands for "high definition". HD lace is a royal lace material that used to be called Swiss lace, the most transparent and thinnest, which is invisible when applied to the scalp. You don't have to add extra makeup or bleach to adapt to your skin tone. This ensures that the wig-wearer can have an exposed hairline, which looks very natural and renders the lace along the hairline highly undetectable. Although HD lace is much expensive than the other types of lace but also durable and worth it.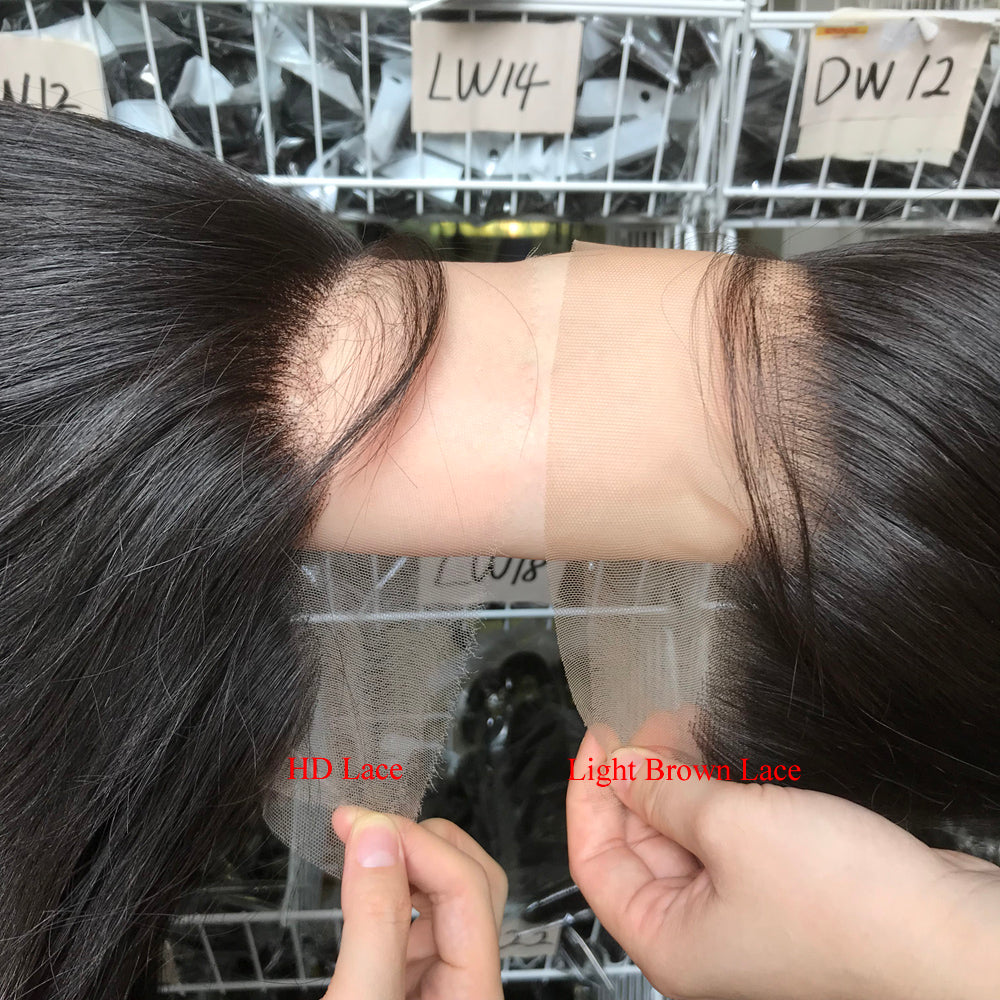 How to choose the lace
We recommend that you go with the regular or transparent one, because it's affordable and easy to find the lace that suits your skin tone.
If you are experienced in it, or for a special day use:
Maybe you could go with HD lace and transparent lace, easy to match with the skin tone, durable and will look much natural and like real scalp, especially for the HD lace, can be used it for the special day, like wedding, dating, meeting or graduation etc.
How to color the lace to match your scalp
1. Makeup Foundation
Pros: The easiest way and so convenient
Cons: The foundation may remove a lot after washing

Prepare: Makeup Foundation (or plus with Makeup spray)
Choose the foundation which is closets to your real scalp, and then just brush it to your lace.  Plus, Makeup spray is also a wonderful choice with this method. You can spray some of them and that it can dry about 2~3 mins. Or you can just let it dry naturally which may take about 30 mins.
2. Dying Lace
Pros: The color is permanent!
Cons: It takes longer to do that and is a bit complicated, because the color is not easy to control

Prepare: Lace product, Dye product, Warm & Cold water, Saucepan, Gloves (optional)
 A. Placing warm water and use a bit drops of dye into a container pls make sure that the color is close to skin tone or what you want before dye (you can use a tissue to test the color). If it's darker, you can fix it with more warm water; if it's lighter then you can put more dye product;
B. Put the lace part (not a whole product) into that container and wait for about 15~20 mins. Pls check the color often to avoid that's too darker and until it's reached your required tone;
C. Final step is wash the whole product by shampoo and conditioner to make it clean.
3. Tea Bags:
If you're not familiar with dye or do not have any dye available, this maybe a great method for you.
Pros: Easy method (especially for the beginners), the color is easy to control, can be repeat to do this way if you feel the color is not enough for you
Cons: Temporary not permanent
Prepare: Lace product, about 10 pieces of black tea bags, a pot, a spoon, shampoo, conditioner, Gloves (optional)
A. Make a packet of 10 or 20 tea bags and throw the tea bags into a pot of boiled water. Use a spoon or a utensil that you simply gently continue the tea bag to urge obviates the color. Then, remove the tea bags and permit them to boil for a further 3 minutes;
B. Pack up the heat and let the water cool for two minutes to use the suitable temperature. Hold the very best of your wig and dip the tear into the tea water. Slightly like Method 2, you need to check the lace color frequently to request the suitable color;
C.The last step is to scrub your lace wig with shampoo and conditioner. Confirm you wash easily and thoroughly to urge obviate the smell of tea.
Hope this helps! If you have any questions, do not hesitate to share the comment at here or contact us:
Email: export@queen-weave.com
WhatsApp: +86 147 3758 9073
Thank you!
QWB work team