Brand Name: Queen Weave Beauty
Shipment: Free Shipping By DHL or Fedex in 3-4 Workdays

Texture: Kinky Straight
Type: Headband Glueless Wig
Length: 12-24Inch for Optional
Unit Weight: 175g~245g
Cap Size: Average, Adjustable By Velcro
Base Material: Human Hair with Basic Headband with 4 Pcs Combs
Density: 150%
Items Per Package: 1 Wig with FREE 3 Pcs Headbands
Shedding: Minimum
Material: 100% Human Virgin Hair
Hair Color: Natural Color #1B
Suitable Dying Colors: All Color
Texture Process: High-Temperature Steam Processed
Hair Lifetime: 2~3 Years with Proper Care
Application: Daily use (2 mins install), Gym, Parties, Multiple Styles for Optional
NOTE:

🌟Hi! Before you purchase our kinky straight hair, if you need a coarse or soft hair pattern, pls kindly leave us an ORDER NOTE and we will pick it up for you!
🌟Kinky Straight may appear 2 different patterns due to production craft, the textures came out with small braids after high temperature steam processed, some workers may braid tighter with coarse result, others may looser with soft effect, that's why hair patterns come out a little different sometimes, but they're the same quality. Show you the difference below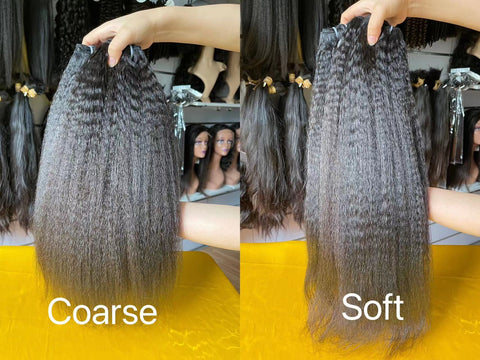 Q&A: Before Your Investment in QWB
1. Why QWB 100% Human Virgin Hair Is Worth For Investment?
100% human virgin hair is cut and collected directly from young ladies without any chemical processed, cuticle intact make it manageable without any tangle or shedding issue.
Hair knowledge blog ⬇️
What's the difference between Virgin Hair Remy Hair And Non-Remy Hair?

Here Are Some Pics For Our 100% Donator's Virgin Hair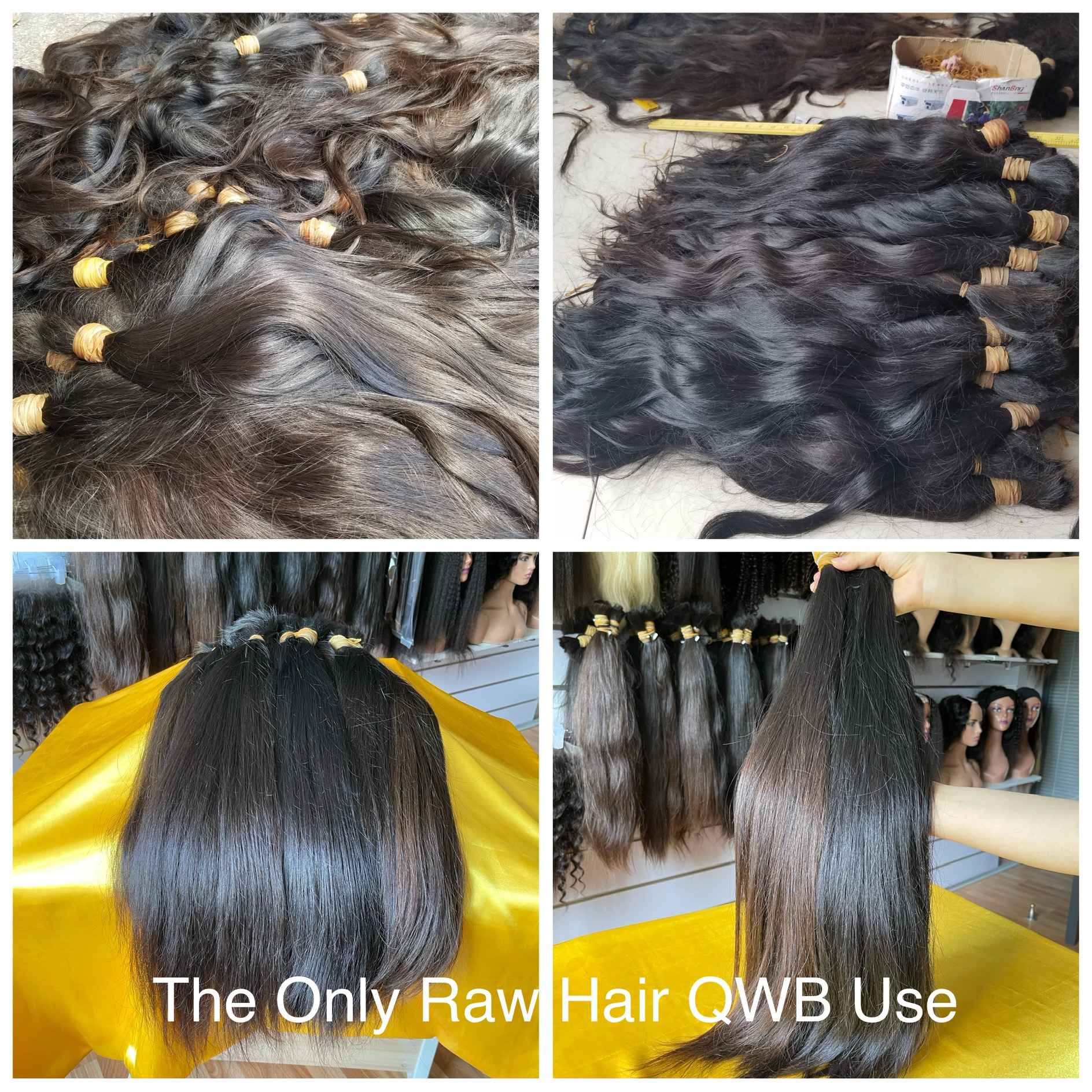 2. Is It Pricey For 100% Virgin Hair In The Long Run?
There are only 20% market share for 100% virgin hair, even much lower percent for longer length since it takes years and years to grow, fewer and fewer girls are willing to donate their hair even being paid high price. But lifetime is around 2-3 years compare to lower quality with cheaper price around 6 months, if 50% higher price can get 4-6 times service life, which one do you think is more pricey?
3. How Long Can QWB Hair Last?
Normally 2-3 years, some even 4-6 years and they still reusable, QWB holds itself to the highest standards with our hair which can be colored and styled with right product and proper care.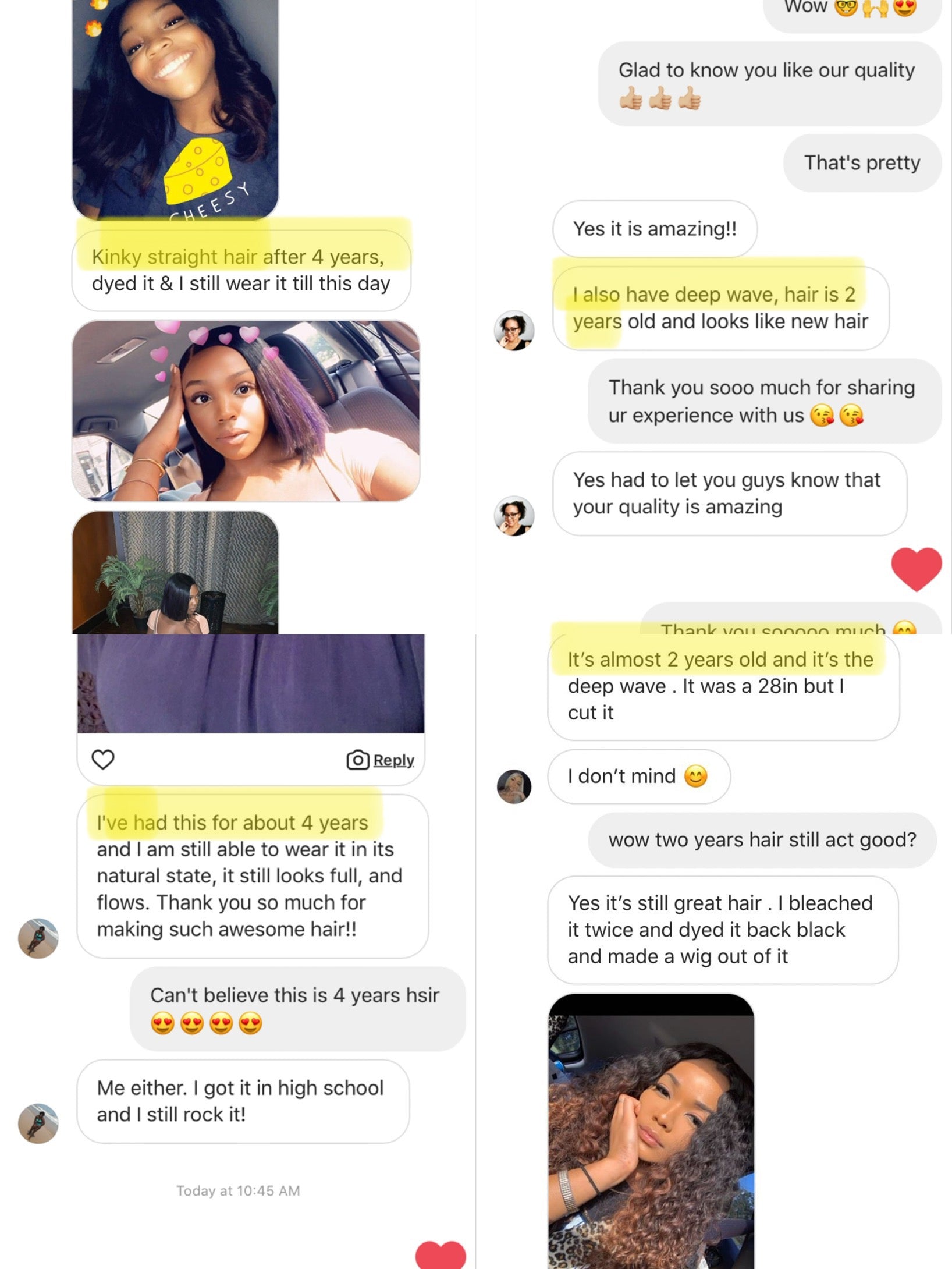 Beautiful Wig!
I am writing this review a year and half after I received the hair. I ordered the hair 17/06/2021 and received it 24/06/2021 (I live in the UK).
This company was recommended to me by a friend. I was worried about purchasing so I contacted the company and Lisa went above and beyond to answer every question I had making the buying process easy and pleasant.
I am not much of a wig wearer so I wanted one that was easy to wear, low maintenance and natural looking. This wig fits the bill! Straight out of the box the texture was lovely I had to trim the ends to even it out (I got 16inch, I am 5ft1inch), washed it with minimal shedding. The wig came with 3 hair bands. The band on the wig is slightly too long for me (my friend had to shorten hers). I have not yet done this and resorted to tying it in a knot at the back. This is the only issue I have with this wig but I can make it work.
I took a break wearing this wig in February and decided to start wearing it again this week (November). I have received compliments every day this week! The wig is still full and the texture still great! Minimal shedding a strand here and there nothing major. I have also had this hair in an up do (see pics) and you couldn't tell it wasn't my hair!
I have been in contact with QWB this week again as I am looking to purchase a kinky curly wig this time for a different look and the customer service again is the best! Lisa sent me a video to show me what the texture will look like to help me decide.
Really impressed with this company not only with the quality of the hair but the customer service! Highly recommend!
Thank you Lisa (& QWB)! Thank you to the ladies who took the time to leave a review and pictures they were really helpful!
Easiest wig ever
So easy to throw on for a virtual meeting or just running an errand. The texture looks really realistic and I've gotten so many compliments on it. The only thing I don't like is the band. I wish it had longer Velcro in the back for security. I was able to dye it blonde and I love how it turned out- still soft and tangle free.
Amazing! Would purchase again!
This hair is so soft, so natural looking and so easy to maintain. True to length, This hair is honestly a "lazy girl" approved wig. I don't have to do anything to maintain it. It flows and blows nicely in the wind! 😊 I can sleep with it on exercise in and it still stays amazing without me putting it any work. Minimal shedding and easy to style! I've been wearing it for close to a month now. I receive many compliments! I've tried other wigs from other brands and trust me, the quality isn't as good as Queen weave beauty!
Very Impressed
There are no reviews on this wig so I wanted to share my opinion of it to give you a better perspective. This hair is very soft and very beautiful. I have another kinky straight headband wig from another company but it is too thick and unrealistic even after requesting 130%. This wig has the perfect thickness which makes it more believable. My hair isn't super thick so it matches my hair when I blow dry it out. The kinks in the hair is a little larger which gives it a unique look. It gives it a smooth look. The smaller kinks in this type of hair gives it an unrealistic look to me. After wearing the hair for a few days, I noticed that it did NOT tangle in the back. By the end of the day, I can still run my fingers through it with no problem. There is NO shedding at all. The ends thin out a little which also gives it a realistic look. It has a lot of body with no stiffness. It curls very well and is very good quality. I hope this helps someone.
Beware the length
The hair itself is soft and doesn't shed or tangle. But the ends are ridiculously thin. I ordered an 18" but it's more like a 16" once I trim off these scraggly ends so be mindful of that. Also, this isn't super "big head friendly". It'll stretch but there isn't a ton of give. The band needs to be a little bit longer and a little thinner for comfort as well. Overall, it is a decent wig for the price.