Brand Name: Queen Weave Beauty
Estimated Delivery Time: 3~4 Workdays by DHL/Fedex
Type: Kinky Straight Clip Ins
Length: 12/14/16/18/20 Inches for Optional
Weight: 78 grams – 118 grams
Items per Package: 5clips-1pc | 4clips-1pc | 3clips-1pc | 2clips-2pcs
Hair Weft: Machine Triple Weft
Chemical Process: No
Shedding: Minimum
Hair Grade: Top Grade
Human Hair Type: Cuticle Intact 100% Virgin Hair Extension
Suitable Dying Colors: All Color
Hair Color: Natural Virgin Color Close to #1B
Hair Lifetime: 2~3 Years with Proper Care
* Tips of Clip Ins for Full Look (Contact us for more questions):

12-16" Inches Length: 3 Sets for a Full Head
18-20" Inches Length: 2 Sets for a Full Head
Clip Ins Extensions are quickly and easily applied and removed to instantly provide volume and length to your look. Perfect for wigs or your own hair!
NOTE:
🌟 Hi! Before you purchase our kinky straight hair, if you need a coarse or soft hair pattern, pls kindly leave us an ORDER NOTE and we will pick it up for you!
🌟 Kinky Straight may appear 2 different patterns due to production craft, the textures came out with small braids after high temperature steam processed, some workers may braid tighter with coarse result, others may looser with soft effect, that's why hair patterns come out a little different sometimes, but they're the same quality. Show you the difference below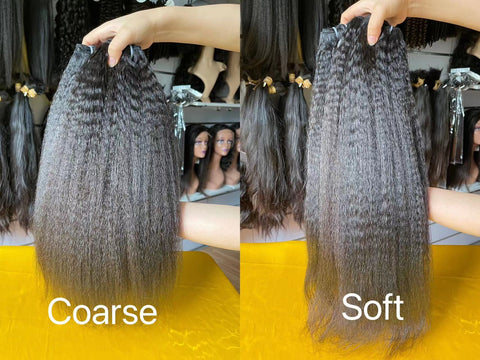 Q&A: Before Your Investment in QWB
1. Why QWB 100% Human Virgin Hair Is Worth For Investment?
100% human virgin hair is cut and collected directly from young ladies without any chemical processed, cuticle intact make it manageable without any tangle or shedding issue.
Hair knowledge blog ⬇️
What's the difference between Virgin Hair Remy Hair And Non-Remy Hair?
Here Are Some Pics For Our 100% Donator's Virgin Hair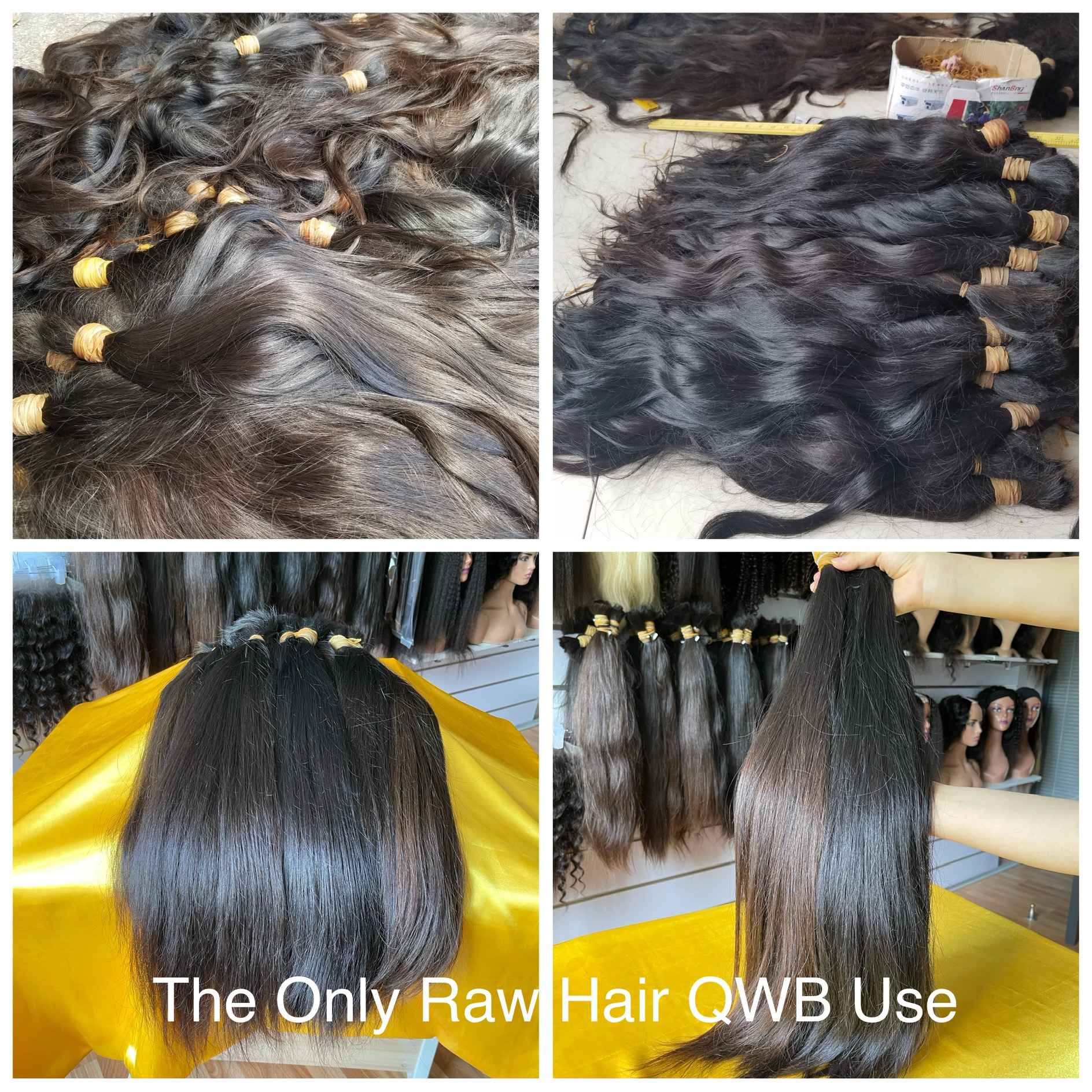 2. Is It Pricey For 100% Virgin Hair In The Long Run?
There are only 20% market share for 100% virgin hair, even much lower percent for longer length since it takes years and years to grow, fewer and fewer girls are willing to donate their hair even being paid high price. But lifetime is around 2-3 years compare to lower quality with cheaper price around 6 months, if 50% higher price can get 4-6 times service life, which one do you think is more pricey?
3. How Long Can QWB Hair Last?
Normally 2-3 years, some even 4-6 years and they still reusable, QWB holds itself to the highest standards with our hair which can be colored and styled with right product and proper care.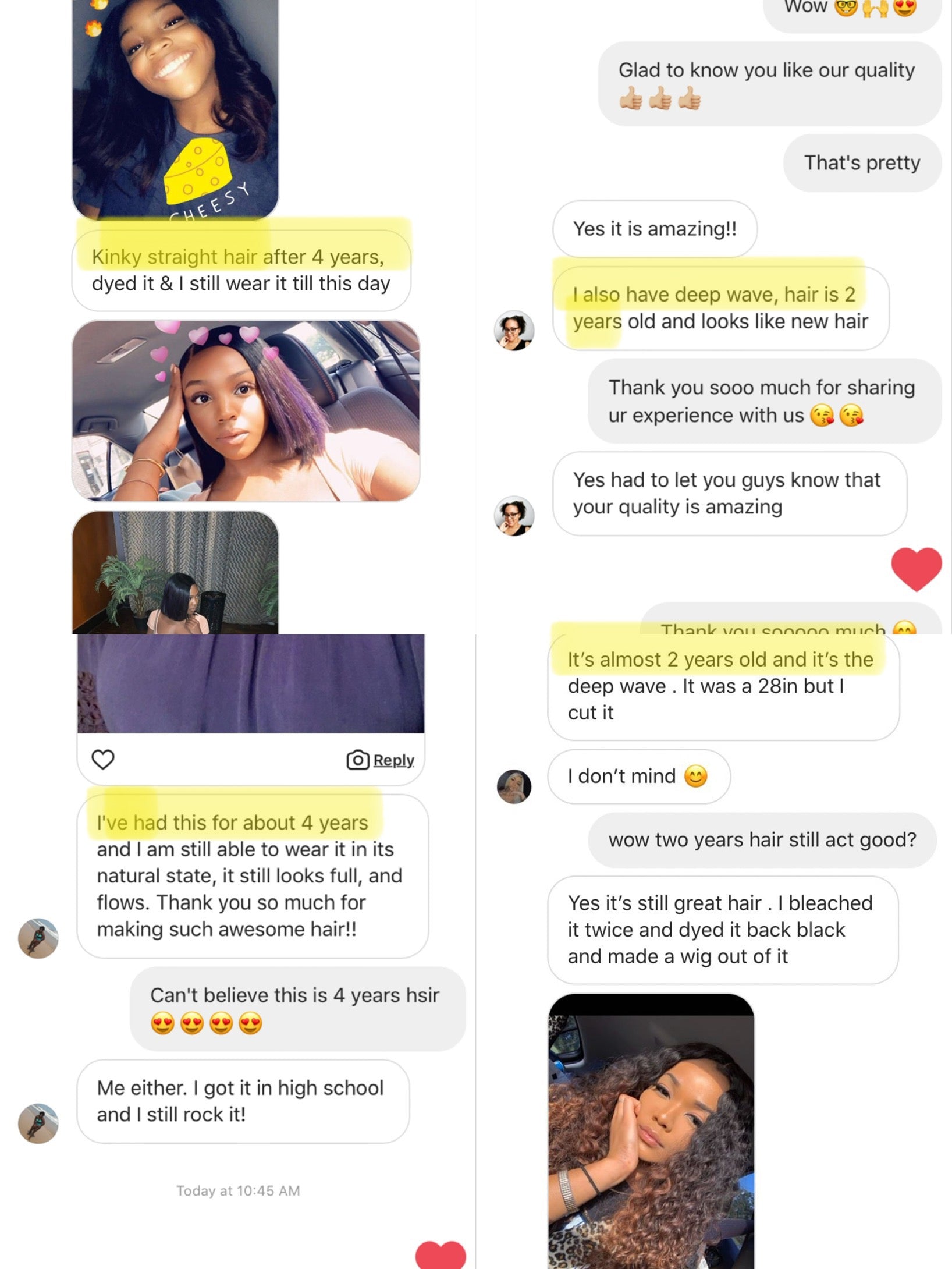 Great quality and textures!
I love this hair so much! I've been buying this hair for the last 3 years! I've purchased so many different lengths of the kinky straight but the light yaki is my FAVORITE and blends with my relaxed hair. The texture is natural, thick, and lasts for years!
Clips in kinky straight 14inch perfect !
Super ! The hair are perfect, the delivery was very fast ! So happy :)
Thanks I recommand for sure!
Best hair online! I've been using since 2016
I recently purchased these Kinky Straight clip-in extensions and I couldn't be happier with the results. These extensions have quickly become an essential part of my hair styling routine and have exceeded all my expectations. Here's what I love about them:
Natural Look & Feel: The Light Yaki texture is perfect for my hair type. It blends seamlessly with my natural hair, providing a realistic and undetectable appearance.
Easy Installation: The clip-in mechanism is secure and user-friendly. It only takes a few minutes to install the extensions, and they stay put all day long without causing any discomfort.
Customizable: These extensions can be easily cut, dyed, and heat-styled to match my preferences. I've been able to experiment with different looks, and the extensions have held up well to styling tools and products.
Kinky Straight Clip ins
Such beautiful, natural looking hair. This hair straightens well, and does hold a curl. Love the texture and fullness it gives. Definitely mimics natural hair. Super fast shipping.