Brand Name: Queen Weave Beauty
Shipment: DHL or Fedex in 3-4 Workdays
Texture: Coily Curly Hair
Hair Color: Natural color  #1 #1b #2 Optional
Suitable Dying Colors: All Color
Length: 14"~22" Optional
Unit Weight: 98~100g/bundle
Chemical Process: No
Shedding: Minimum
Hair Grade: Top Grade
Material: Cuticle Intact 100% Virgin Hair
Hair Weft: Machine Double Weft
Hair Lifetime: 2~3 Years with Proper Care
Q&A: Before Your Investment in QWB
1. Why QWB 100% Human Virgin Hair Is Worth For Investment?
100% human virgin hair is cut and collected directly from young ladies without any chemical processed, cuticle intact make it manageable without any tangle or shedding issue.
Hair knowledge blog ⬇️
What's the difference between Virgin Hair Remy Hair And Non-Remy Hair?
Here Are Some Pics For Our 100% Donator's Virgin Hair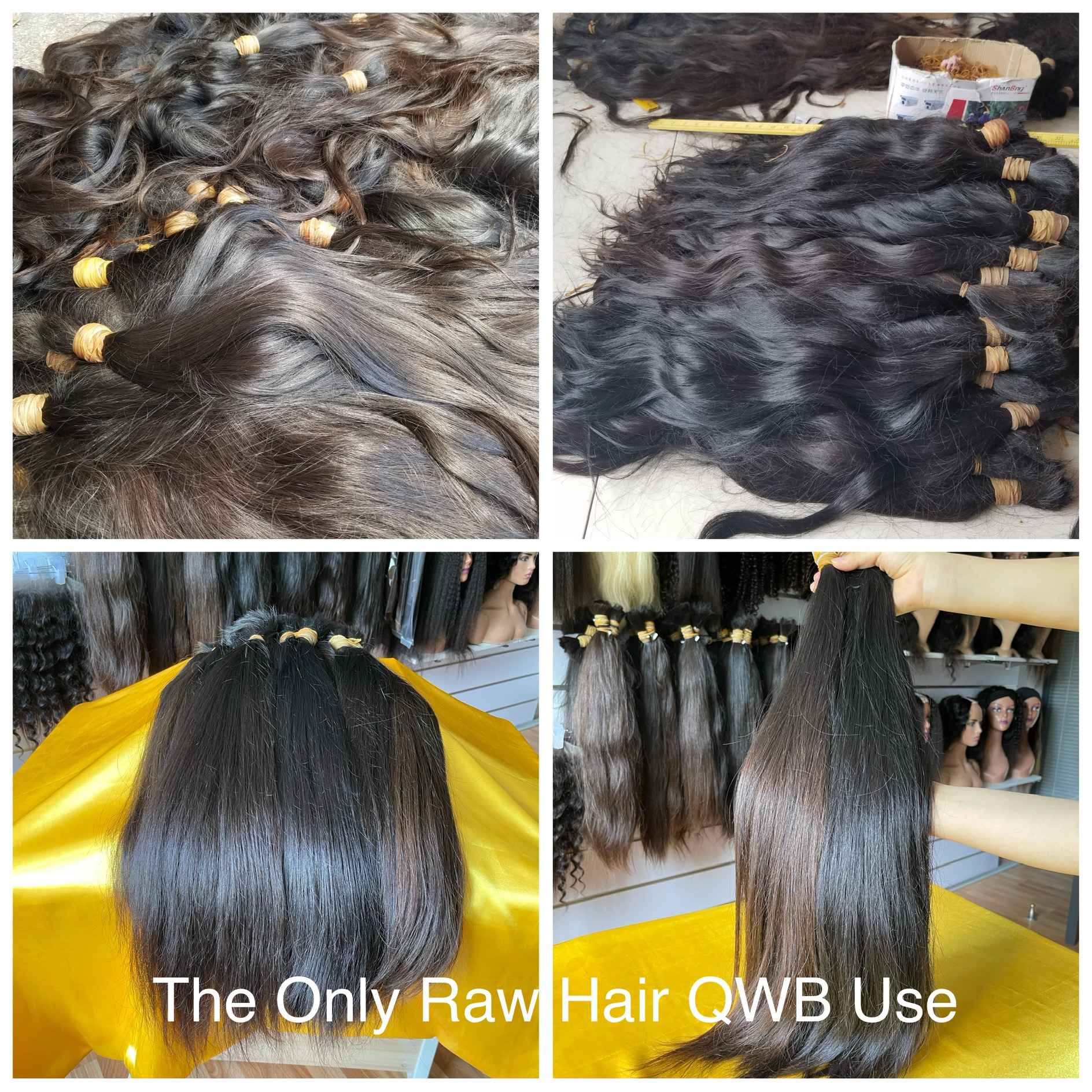 2. Is It Pricey For 100% Virgin Hair In The Long Run?
There are only 20% market share for 100% virgin hair, even much lower percent for longer length since it takes years and years to grow, fewer and fewer girls are willing to donate their hair even being paid high price. But lifetime is around 2-3 years compare to lower quality with cheaper price around 6 months, if 50% higher price can get 4-6 times service life, which one do you think is more pricey?
3. How Long Can QWB Hair Last?
Normally 2-3 years, some even 4-6 years and they still reusable, QWB holds itself to the highest standards with our hair which can be colored and styled with right product and proper care.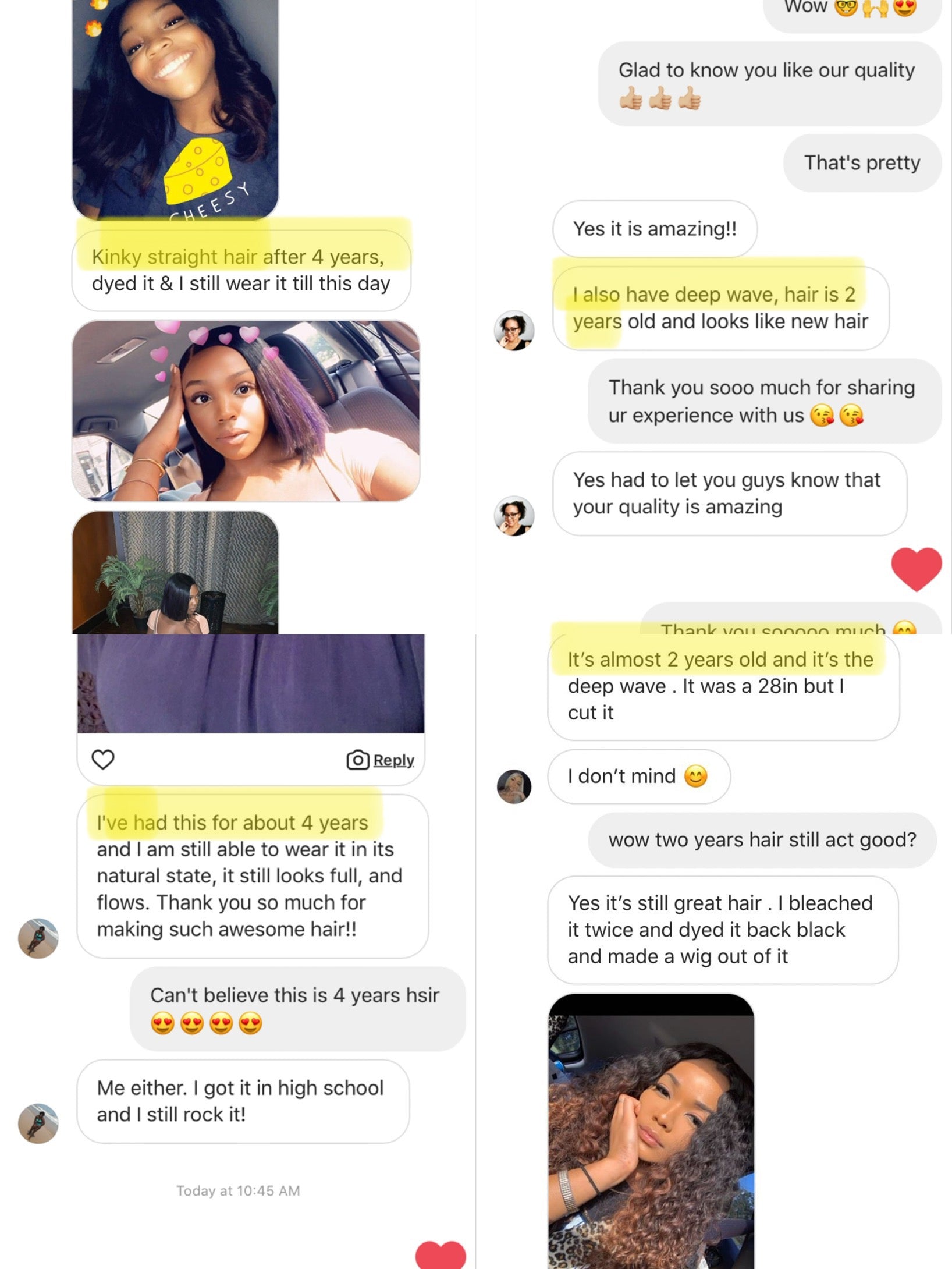 Best 4c hair thus far
I've been looking for the right kinky coily hair that matches my 4c hair texture and this is it. Trust me when I said I've searched high and lower. Don't hesitate to order this hair. The price is equivalent to the quality! This hair is medium maintenance/ (not too difficult yet not too easy to take care of) but if you know how to care for kinky coily hair it shouldn't be a problem. I would suggest finger detangling and using the Doux mous to define the coil. I add a little bit of leave in plus the doux gel and this hair is perfect; curls will last for a week. I've also tried the TGIN daily moisturizer on this hair after applying the Doux mousse def and it makes it soft and manageable. 2 bundles is more than enough for a full sew-in with minimal leave out. I ordered inches 18&20. The first picture is the hair in its natural off black color( this is only 1 bundle 18" to be exact )and the second picture I dyed it sandy brown( I have both 18"&20" with longest on the top. The hair takes well with color, it's colored within minutes without bleach; I used the ion hair color from Sally's. This hair can get big if you allow it but also can be defined. It sheds but not too excessive; all hair sheds thought. The bundles are double wefted with enough hair on the weft that's why 2 bundles look full. Ordered confirmed March 18 and I received the hair March 21st.
Just like my own hair
I have been having a hard time finding hair extensions that match my 4c texture, I am very glad to come across this company and this particular curl; and I have been very impressed at how much this hair mimics my own hair. With Effortless blending, I have tried twist outs, braids outs, wand curls.. will definitely be ordering again!
Poor quality
Based on reviews I had high expectations for these extensions... Extremely disappointed. This hair is just awful. Constant tangles. Lots of shedding and breakage. The hair feels rough and hard. I question if this is even human hair ? Waste of money.
Fantastic
This is the best natural hair for 4a to 4b, it looks so natural.
I've ordered twice before from aliexpress but this time directly from QWB. Shipped quicky to UK. Highly recommend this hair!