If u are one of QWB big fans, u must know we make new products slowly, step by step and take a monthly test before releasing to customer. Quality always comes first :) Not only raw material but also texture craft. Here we would like to share how we make the 10 textures
 1.      STRAIGHT
Flat iron the hair with high-temperature →co-wash the hair with conditioner →Dry hair at drying room
 2.      BODY WAVE
Roll the hair with pipes and ends wrapped by cotton fabric →High-temperature steam processed →unroll the pipes →co-wash the hair with conditioner → organize to body wave pattern →Dry hair at drying room
 3.      LOOSE WAVE
Roll the hair with pipes and ends wrapped by cotton fabric →High-temperature steam processed →unroll the pipes →co-wash the hair with conditioner →organize to loose wave pattern →Dry hair at drying room
 4.      DEEP WAVE
Roll the hair with pipes and ends wrapped by cotton fabric →High-temperature steam processed →unroll the pipes →co-wash the hair with conditioner →organize to deep wave pattern →Dry hair at drying room
 5.      WATER WAVE
Roll the hair with pipes and ends wrapped by cotton fabric →High-temperature steam processed →unroll the pipes →co-wash the hair with conditioner →organize to water wave pattern →Dry hair at drying room
 6.      TIGHT CURLY
Roll the hair with pipes and ends wrapped by cotton fabric →High-temperature steam processed →unroll the pipes →co-wash the hair with conditioner →organize to tight curly pattern →Dry hair at drying room
 7.      KINKY CURLY
Roll the hair with pipes and ends wrapped by cotton fabric →High-temperature steam processed →unroll the pipes →co-wash the hair with conditioner →organize to kinky curly pattern →Dry hair at drying room
 8.      COILY CURLY
Roll the hair with pipes and ends wrapped by cotton fabric →High-temperature steam processed →unroll the pipes →co-wash the hair with conditioner →organize to coily curly pattern →Dry hair at drying room
 9.      KINKY STRAIGHT
Plait hair to small braids →High-temperature steam processed →Unlock the braid →co-wash the hair with conditioner →Dry hair at drying room
 10.      LIGHT YAKI
Roll up hair with nylon net→High-temperature steam processed →Unroll the nylon net →Co-wash the hair with conditioner →Dry hair at drying room
Here are some pics to show more details: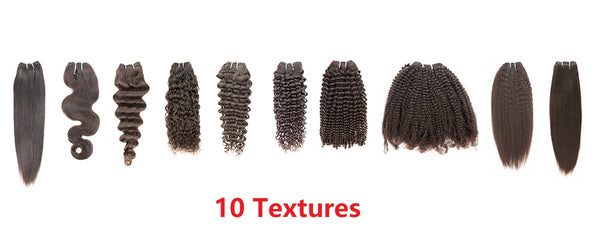 Some customer may complain about the small difference for the same texture, what we want to explain is that there are many factors to affect the final pattern, rolling strength, braiding strength, processed temperature and time, organize pattern period...etc.
The final pattern looks simple, but we take every effort and monthly test for each texture before selling. However, for manual work, little difference is acceptable, all products will be inspected by quality control department, We will be responsible for quality issues, full refund or replacement will be guaranteed for large texture differences.
We will be appreciated that if u could give more understanding for small variance and our hard working.
Feel free to contact us if you have any questions: 
Email: export@queen-weave.com
WhatsApp: +86 147 3758 9073
Thank you!
QWB work team