Brand Name: Queen Weave Beauty
Shipment: Free Shipping By DHL or Fedex in 3-4 Workdays
Texture: Body Wave Hair
Type: 13X4 Lace Frontal
Lace Color: Dark Brown
Length: 12''~18'' for Optional
Density: 130%
Hair Color: Natural Color #1b
Suitable Dying Colors: All Color
Hair Grade: Top Grade

Material: 100% Human Hair
Shedding: Minimum
Chemical Process: No
Hair Lifetime: 2~3 Years with Proper Care
Q&A: Before Your Investment in QWB
1. Why QWB 100% Human Virgin Hair Is Worth For Investment?
100% human virgin hair is cut and collected directly from young ladies without any chemical processed, cuticle intact make it manageable without any tangle or shedding issue.
Hair knowledge blog ⬇️
What's the difference between Virgin Hair Remy Hair And Non-Remy Hair?

Here Are Some Pics For Our 100% Donator's Virgin Hair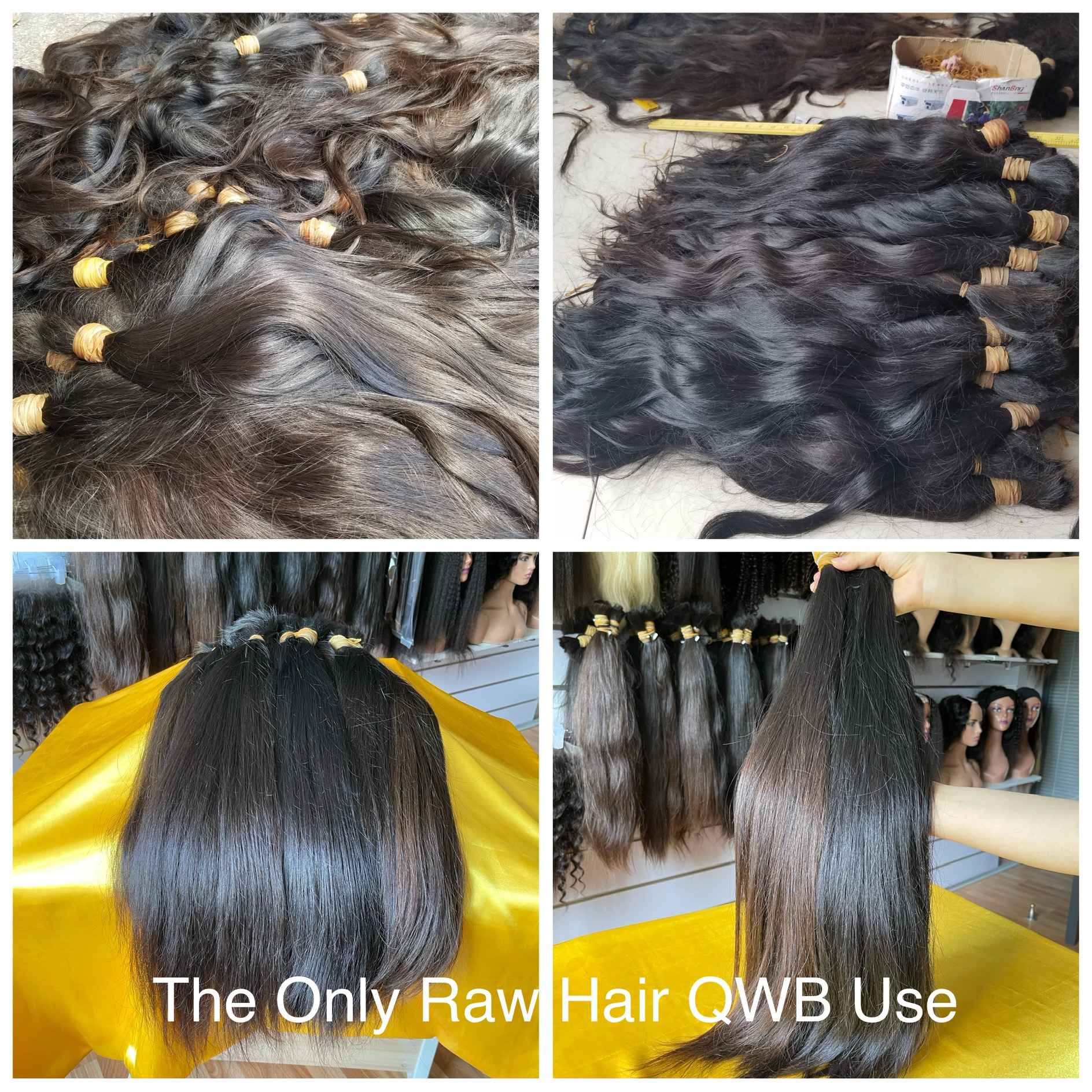 2. Is It Pricey For 100% Virgin Hair In The Long Run?
There are only 20% market share for 100% virgin hair, even much lower percent for longer length since it takes years and years to grow, fewer and fewer girls are willing to donate their hair even being paid high price. But lifetime is around 2-3 years compare to lower quality with cheaper price around 6 months, if 50% higher price can get 4-6 times service life, which one do you think is more pricey?
3. How Long Can QWB Hair Last?
Normally 2-3 years, some even 4-6 years and they still reusable, QWB holds itself to the highest standards with our hair which can be colored and styled with right product and proper care.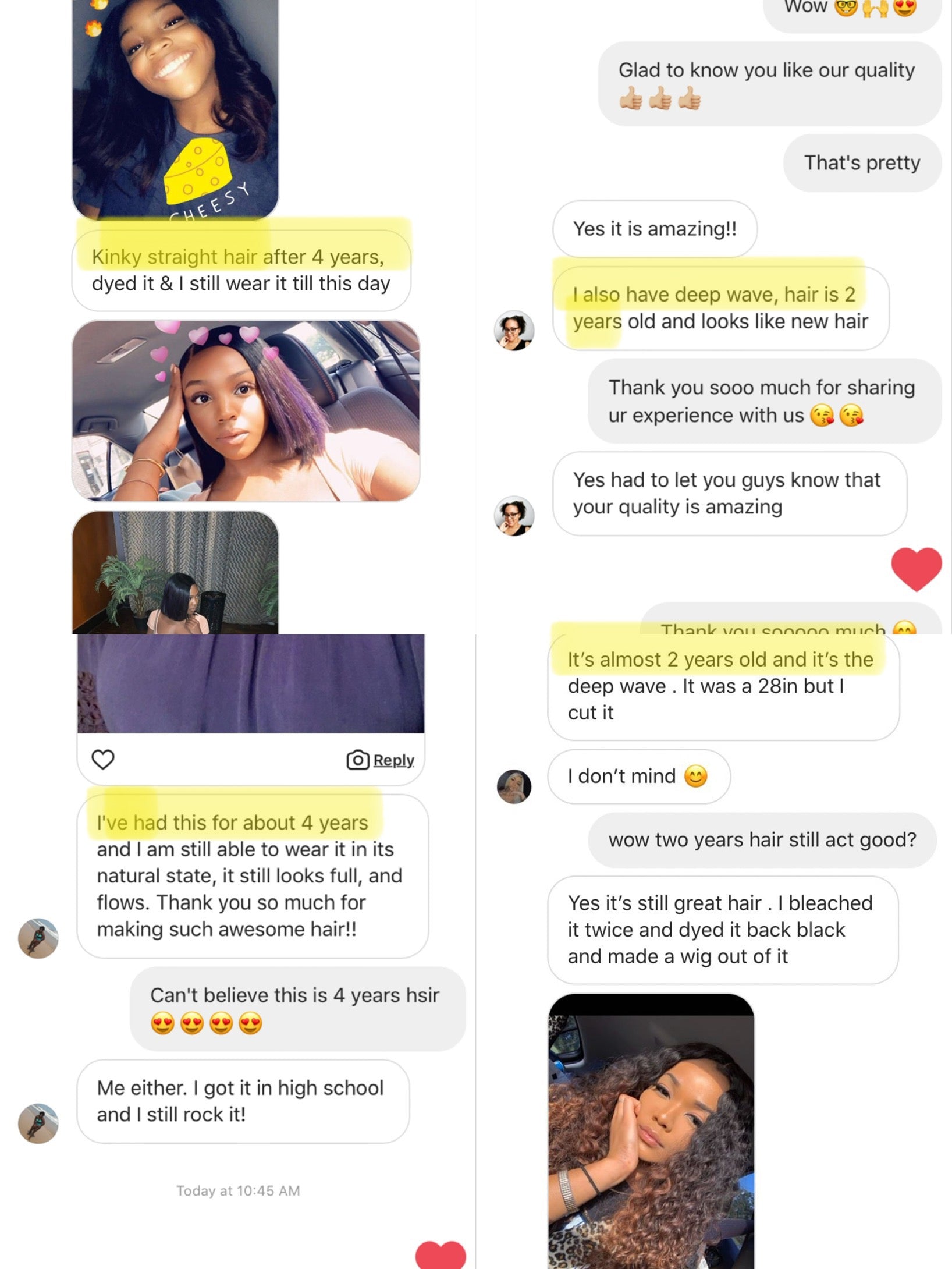 Quality worth $10
The frontal came in and I expected too quality as the hair I purchased prior was the best quality I've ever bought. This body wave frontal however was trash! The knots where thick and can be seen clear. AliExpress hair is better then this frontal. The body wave was like deep wave and brittle and cracks off to the touch. I'll never purchase from this vendor again unless they can discount my next frontal purchase by $70. You should give your customers the best quality because it's our hard earned money we are spending to keep you in business! They refused to refund or even agree to return and refund. This was a frontal in body wave because they are sold out of straight hair. I expected way better and I received trash, like this was hair a new frontal created practiced on and failed. DO NOT BUT FROM THEM BECAUSE TOO QUALITY IS NOT GUARANTEED WITH EVERY PURCHASE!!!! Hair Matts and knots up. Frontal cake with major gaps and grey hair. Those blots you see on the lace are knots. Thick knots that could be seen clearly and felt, bleaching them won't even hide them. Look like crochet.
Wrong hair sent
Ordered body wave and I got sent loose wave. Doesn't match the rest of the hair. Disappointed as I've never had issues before.
the lace frontal is amazing!
Free Shipping 13x4 Inch Body Wave Transparent Lace Pre Plucked Frontal